News
Time To Dream
2008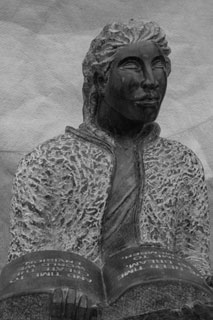 The San Francisco Arts Commission invites the public to attend the dedication of "Time to Dream," a new public work from sculptor Amana Brembry Johnson. The dedication and unveiling will be held at the Joseph P. Lee Recreation Center, 1395 Mendell Street in San Francisco, on November 18, 2008 from 3:00 to 4:30 pm.
"Time To Dream" is a life-sized figure carved from a 3,000-pound block of Basalt Spring Stone found only in Zimbabwe, Southern Africa. The figure, which took Johnson over nine months to carve, is deliberately not identified as either male or female in order to recognize the variations of gender that are present in today's world. The sculpture, supported by a circular bench of colored concrete, embellished with sculptural medallions, holds an open book whose pages are engraved with inspirational text by Johnson, that reads: "We Need time to dream, time to remember and time to create the world we envision."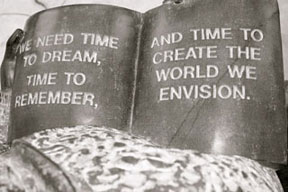 As stated by Johnson, "At a time of profound change in American history, 'Time To Dream' arrives as a beacon to encourage new directions of thought and vision towards creating a world of social, economic, and racial equality."
Amana Brembry Johnson is a prolific sculptor and mixed-media artist who has created figurative work in stone for nearly two decades. Her current work reflects an integration of stone sculpture and ceramic work with other materials to create multi-layered, sculptural environments into which the audience can enter and become a part of the work itself.
Johnson earned a MFA in sculpture from the Maryland Institute College of Art in Baltimore and studied at the University of California at Irvine, where she received her BA in Social Ecology. She has created public work throughout the United States and is the recipient of numerous awards and grants. Her artwork may be viewed at the Thelma Harris Gallery, 5940 College Avenue in Oakland, California 510 654-0443.